What exactly is Dynamics 365?
Microsoft Dynamics 365 is a suite of cloud-based applications that can help run your business. With Dynamics 365, you can perform a wide-range of critical business activities such as managing contacts and potential sales opportunities, service customers, manage projects, or build marketing campaigns.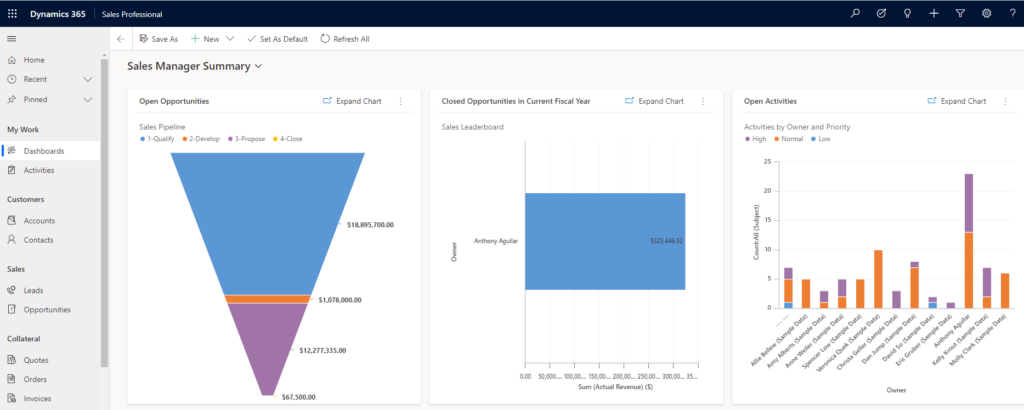 What can Dynamics 365 do for my company?
Dynamics 365 can do quite a bit for your company depending on its needs. With Dynamics 365 Sales Professional, your sales associates can easily track opportunities and leads with a customizable dashboard. With Dynamics 365 Customer Service, your customer service representatives can support customers and easily manage cases. You can also create a customer portal using Power Apps so your customers can submit and track support tickets. Dynamics 365 also provides a large collection of tools like Dynamics 365 Customer Voice, LinkedIn Sales Navigator, and AI-based tools such as Customer and Sales Insights that help you understand your customers better and foster stronger relationships. If you need a better way of managing your sales, servicing your customers, managing projects, handling HR functions, or need a more efficient way handling your supply chain then Dynamics 365 is definitely for you.
Can Dynamics 365 do everything I need for my business?
Microsoft Dynamics 365 can perform a multitude of functions for your business. In some cases, Microsoft Dynamics 365 may provide you with everything you need to perform everyday tasks. With Microsoft's Dataverse, you are given a solid foundation. Many entities such as accounts, contacts, etc. are already provided for you. But as with any system, Microsoft Dynamics 365 will not cover every possible need you may have. The good news is that you can add new entities that are unique to your industry and have them readily available in your Dynamics 365 instance. You can then add forms, views or workflows for those new entities. Your team can immediately start using them as part of their everyday operations. You may also need to build custom applications for customers or internal stakeholders using the data housed in Microsoft Dynamics 365. Microsoft Dynamics 365 includes licenses for Microsoft Power Apps. With Power Apps, you can easily build applications without the need for a development team. As an example, this can be extremely useful when you need to expose a customer service portal for your customers so they submit and track support requests. All the transactions your customers submit go directly in Dynamics 365 so your team can support your customers.
Dynamics 365 sounds great, how do I get started?
The Microsoft Dynamics 365 licensing model is not as clear as we would like it to be so you will want to engage with a partner to help you navigate through the process. A Microsoft Partner can help determine what products are right for your company, the appropriate licensing model you will need and assist you with any technical challenges along the way.
How do I find a Microsoft Dynamics 365 partner?
More likely than not, you probably already have a Microsoft 365 (formerly Office 365) plan. Reach out to your Microsoft 365 Partner and see if they have Dynamics 365 as part of their offering. If they do, then great! You will then be able to easily integrate Dynamics 365 with your Microsoft (Office 365) tenant. If your Microsoft 365 partner does not offer Microsoft Dynamics 365, you can always look for a partner on Microsoft's Solution Provider search page. There you can search for solution providers that fit the need you are looking for.
If you have any questions, would like a demo of Dynamics 365 or need any assistance, please feel free to contact us!